Malicious Chrome extensions pose a couple of dangers which include stealing your browsing data and infecting your browser with adware. Good extensions abound on the Chrome Web Store but the sad reality here is that some of these extensions have lost their legitimacy.
If you find a familiar Chrome extension in this post and your instinct says you have it installed, we advise that you explore your list of installed extensions and remove the extension.
Finally, here are some of the popular Chrome extensions you should never install (or quickly remove if already installed), I consider them 5 Risky Google Chrome Extensions You Should Uninstall :
FindMeFreebies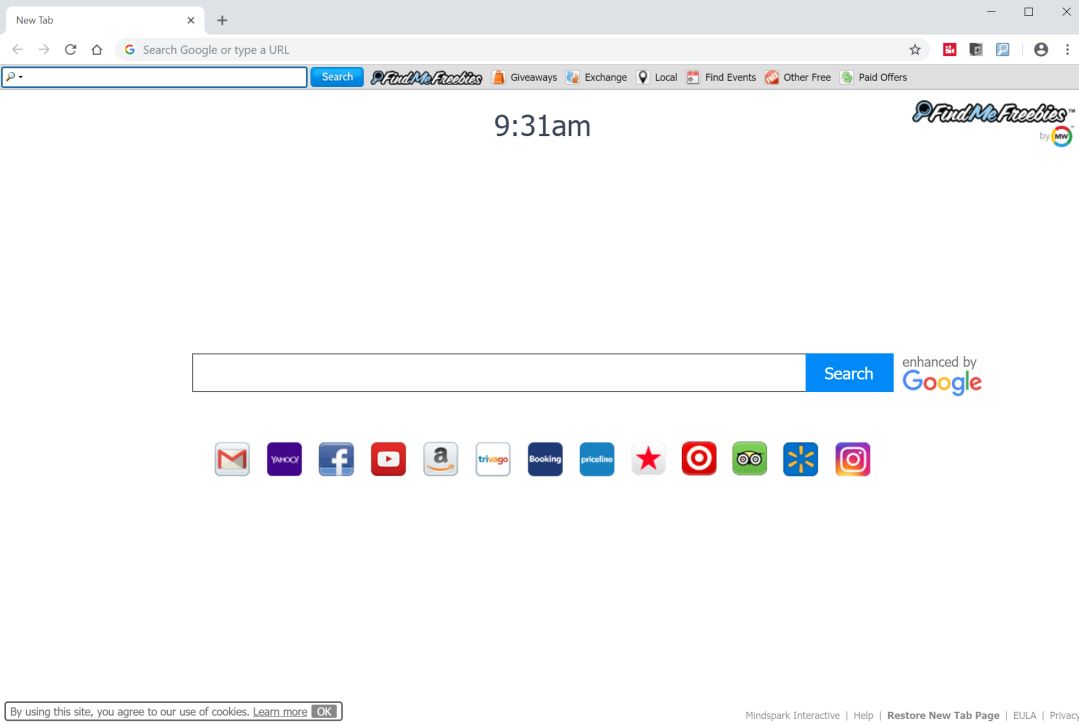 This is a Chrome extension with some enticing name but it's never a worthy extension to install. FindMeFreebies actually hides under the pretext of its name to seize your browser's new tab page or homepage.
Once this extension is able to do that, FindMeFreebies.com takes over your new tab page. You'll eventually see that FindMeFreebies is no different from a ploy to make money by advertising through you.
As explained, this deceptive strategy of FindMeFreebies is a well-known gimmick used by junk extensions. Instead of linking you to where you can snap up free items online, FindMeFreebies seizes your new tab page for placing its ads. Meanwhile, it's been discovered that FindMeFreebies came from the developers of a particular search engine known for spamming.
Hover Zoom
Hover Zoom used to be an excellent extension that you could use in zooming out images. But following ownership transfer to a rogue company, it became one of the dangerous Chrome extensions that could land you in trouble.
Hover Zoom has been phased out of the Chrome Web Store but for the fact that it's a popular extension, you may have downloaded it. Don't hesitate to uninstall Hover Zoom if you still have it installed in your Chrome browser.
Needless to say, you wouldn't like to have a Chrome extension that pries into your browsing data in order to capture and sell. That's just what Hover Zoom and similar spyware do.
Luckily, you won't come across Hover Zoom while perusing the Chrome Web Store for the extensions to download. But if you really need an extension that works pretty much for zooming out images during your internet sessions, you may opt for Imagus.
Weird Extensions
Google is said to have ousted myriads of malicious extensions from the Chrome Web Store. But as much as Google clamps down on the perceived malicious extensions hosted on the Chrome Web Store, the store continues to grapple with malware. There have been cases of Chrome extension users claiming to have found annoying pop-up ads in the extensions they downloaded from the store.
Also in 2018, security examination conducted on the store revealed that some four extensions were malicious whereas these extensions had raked in a total of 500,000+ downloads.
Various reports clarify that Google has wiped out many of the dangerous Chrome extensions (including some of the ones we mentioned in this post) found on the Chrome Web Store. However, this doesn't translate into the assurance that you can download just any extension you find on the store.
For the fact that malicious extensions continue to spring up, you really have to be wary of unworthy extensions. Some of these extensions come with weird names and more often than not, they appear deceptive in functionality: they perform functions way different from what you expect of them.
Antivirus Extensions
If you installed a couple of Chrome-dedicated antivirus extensions in the past, this could be the time to begin uninstalling them. It's very possible that you installed antivirus (browser) extensions because you felt such extensions would filter web traffic just to help you avoid unsafe traffic. But it should interest you that most of the trusted regular antivirus programs out there will do the same job.
We'll therefore advise you to stay away from browser extensions designed to function as antivirus programs. In fact, such antivirus extensions are only there to help their developers rake in profit. Worst of it all is that some of them have posed harm to users rather than serve the expected security purpose.
One of the dangers posed by harmful antivirus extensions is stealing your browsing data. The extensions can as well cause your Chrome browser to act weird probably by changing its homepage.
Hola
Hola is a free-to-use Chrome extension generously used for gaining access to content with geo-restrictions. What this means is that Hola is an extension you can install in order to access online content not allowed in your country/region of residence. This would make Hola seem like a regular VPN service but it isn't.
Hola users can tap from each other's connection, making Hola a proxy service for peer-to-peer exchange of connections. Although the exact truth, one thing you might not like to know is that Hola has access to your bandwidth. Previously, Hola sold parts of this bandwidth and presumably, this could have been the service's means of raking in money. You'd recall that Hola is a free-to-use service.
Notably, the fact that Hola could sell your bandwidth is a red flag you shouldn't ignore. And one thing you should know is that paving the way for unknown individuals to access your connection might spell danger. Of course, it could be an avenue for malicious individuals to rope you into crime.
Also, cyber rogues were said to have unleashed DDoS attacks on some notable sites via the use of Hola. Although this occurrence seemed to have prompted the company (Hola) to toughen up its guidelines, we still advise that you avoid using the Hola extension.
---
Conclusion
Some Chrome extensions found to be malicious today were, in fact, legitimate at the very start. Based on the common practice, these extensions lost their legitimacy after being acquired by malicious companies.
Considering that such extensions will have attracted dozens of downloads with a whole lot of users, the malicious companies take advantage of this to steal the users' data. This is why it's advisable that you scan through user reviews about any Chrome extension before installing it from the Chrome Web Store.
Reference:
https://www.google.com/amp/s/www.makeuseof.com/tag/chrome-extensions-uninstall-right-now/amp/