Arin BBnaija Biography – Arin Big Brother Naija 2021 Profile, Biography, Age, Education, Investment, Net Worth.
Here is everything you need to know about Arin of the Big Brother Naija season 6 reality show.
Get to meet Arinola Olowoporoku and know everything about her by reading this Arin BBnaija Biography.
Arinola Olowoporoku is one of the Big Brother season 6 reality show housemates who prefer to be called "Arin " in the house.
The Big Brother Naija season 6 reality show started on the 24th day of July 24th, 2021, with the male housemates being the first to enter the house and the females the following day.
See Other BBnaija Housemates List
Boma
Cross
Emmanuel
JayPaul
Niyi
Saga
Sammie
Whitemoney
Yerins
Yousef
Angel
Arin
Beatrice
Jackie B
Liquorose
Maria
Nini
Peace
Princess
Saskay
Tega
Arin BBNaija Profile
| | |
| --- | --- |
| Name | Arinola Olowoporoku |
| Nick Name | Arin |
| Date of Birth | 1992 |
| Age | 29 |
| Nationality | Nigerian |
| State of Origin | Ekiti |
Arinola Olowoporoku, better known as Arin, is a Nigerian who competed in Big Brother Naija in 2021. BBNaija Arin is the fifth female housemate to join Big Brother Naija.
BBNaija Arin is a feminist who refuses to be silent when she gets bullied.
She is lots of energy, according to BBNaija Arin, and she expects that there will never be a dull time in the house. BBNaija Arin describes herself as a "social butterfly" who seeks out opportunities.
The 29-year-old actress wants her followers to know that she despises bullies. Arin fears that one of her dark sides is becoming a bully. She does not consider herself a bully, but when pushed, she can become one. Arin of BBNaija is likewise terrified of meeting someone who may awaken her evil side.
When a conflict breaks out, BBNaija Arin does not see herself as a calm, collected personality. You'll always see her attempting to be the peacemaker, she claims.
BBNaija Arin's family and background
Arin was born in the year 1992 to Yoruba parents in Lagos and was also raised in Lagos. BBNaija Arin was born and bred in Lagos state Nigeria.
BBNaija Arin's career
Arin of BBNaija is a fashion designer. She also worked as a freelance artist and cultural curator specializing in modern African art and culture.
BBNaija Arin wants to adapt her profession, grow, and make her goal a reality by using the Big Brother Naija show.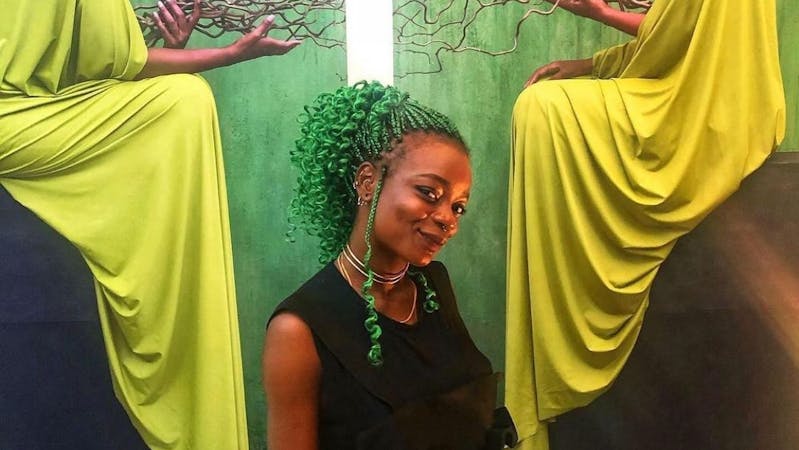 BBNaija Arin's hobbies
Arin has a distinct sense of style that she enjoys. Arin of BBNaija revealed that she enjoys piercings. She has at least 17 piercings on her body, according to the real personality.
BBNaija Arin also enjoys adding a splash of color to her hair, particularly blue.
BBNaija Arin's relationship status
BBNaija Arin was in a relationship before going into the big brother show.
However, the relationship ended because, at some point, her boyfriend hoodwinked her and took her money. She later recovered her funds and ended the relationship.
BBNaija Arin's source of income and net worth
BBNaija Arin's current net worth is yet to be estimated. She is poised to add more to her net worth as the big brother Naija show progresses.