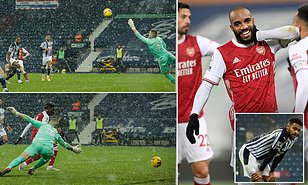 Mikel Arteta's Arsenal side seems to be on the rise after series of disappointing results. The Gunners had gone for weeks without victory, until a surprise victory against Chelsea on Boxing day, and since then it all seem to be in the ascendancy for Arteta's Arsenal.
Arsenal who sit on 13th position in the Premier League standings faced West Brom who are 19th and relegation favourites, with the North London side easing to victory.
Mikel Arteta was touted as one of the managers to be sacked at the end of the year despite backing from the Arsenal board following series of disappointing results.
Such was the results that club talisman and captain, Pierre Emerick Aubameyang was dropped to the bench, alongside veteran Premier League forward, Willian.
Arteta's faith in youngsters would pay off, against Chelsea and in the next game against Brighton and Hove Albion and also in this game.
With Kieran Tierney and Bukayo Saka scoring the first two goals in a snow filled first half, before Alexandre Lacazette quelled any hope of a frantic finish in the second goals with two quick goals in the 60th and 64th minute.
After three wins in a row, Arsenal now appear to be gunning for the high side again with only six points separating the Gunners from the champions league places.
Mikel Arteta would hope to make it four wins in all competitions as they begin their FA Cup title defence on Saturday as they take on Newcastle United.
* TEXT ADS**
◊Cure and Knock Staphylococcus & Other Infectious Diseases out from your Body within 3 weeks --
CLICK HERE
◊Order Ultimate Virtual Soccer Hacks and Secretes to Win 100k Daily --
CLICK HERE
◊Register Your Business Name With CAC and Get it in less than 2 weeks--
CLICK HERE
◊Join our Community and interact with fellow members>>
Click here to join
◊JOIN US @TELEGRAM TO RECEIVE UPDATE
CLICK HERE
◊
◊Grab Ultimate List of Over 100+ Companies That Pays You Up To $2500 To Blog and Post Online ( #3000 Only))-
CLICK HERE
◊Get All Recruitment Jobs Past Questions and Answers--
CLICK HERE
____________________________________________________________________