The Minister of Health, Dr. Osagie Ehanire, says Federal Government is making use of every available option to make sure that 70 percent of Nigeria's population get the COVID-19 vaccination in two years.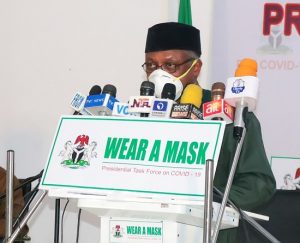 This was made known at the national briefing of the Presidential Task Force (PTF) on COVID-19 in Abuja on Monday
"With an eye on value-for-money, we are negotiating with many parties and planning for flawless execution using recent experience from polio eradication in the face of a global scramble for vaccines," he said.
Ehanire said that the vaccine will start rolling out between late March to April.
"The vaccine is expected to be rolled out as from late March or April. The quantity we ordered from AVATT will depend on our capacity to dispense them to avoid wastage as we have seen in some countries where vaccine management became a problem.
"The development of a handbook on Home Based COVID-19 care is to guide patients who will be assigned each to a specific case manager linked to a health facility, to provide social support service and ensure positive outcomes.
"This will reduce pressure on health facilities and free bed space for serious and critical cases.
"In the meantime, the Federal Ministry of Health is arranging for Federal Tertiary Hospitals and Isolation Centres to interface and explore demand imbalances among facilities, and set up an Oxygen re-distribution system to assist each other when the demand arises," he added.