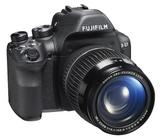 Earlier this week, Samsung unveiled a new Wi-Fi-enabled DualView camera , the DV300F. And the other 19 cameras? They were all announced today by a single company: Fujifilm. Fujifilm's new models represent a full-scale update across the company's fixed-lens offerings, from its X series of premium point-and-shoots to its sub-$100 AX-series models. Common themes across all the new announcements are faster burst-shooting modes, 1080p and super-slow-motion video capabilities, and long-zoom lenses: 30X optical zoom lenses in Fujifilm's latest DSLR-style megazooms, 20X optical in the company's more-pocketable F-series cameras, and a generous 10X optical zoom in the sub-$200 T-series models.
Missing from the mix of Fujifilm's new announcements, which will all be showcased at CES 2012 in Las Vegas next week, is an interchangeable-lens compact camera– rumored to be Fujifilm's first entry in the category. However, during the massive product briefing today, the company did allude to the fact that there will likely be an additional announcement at the company's CES press conference next week.
Here's one of the cameras that were announced today.
FUJIFILM X-S1: New Megazoom Joins the High-End X Series
The new X-series camera has a fixed lens, but the supplied optics will certainly cover a lot of ground. According to Fujifilm, the 26X-optical-zoom X-S1 is meant to occupy the X-series gap between the Fujifilm X10 premium compact camera and the Fujifilm X100 fixed-focal-length rangefinder camera.
The Fujifilm X-S1's optically stabilized zoom lens (24mm to 634mm, F2.8 to F5.6) is housed in a DSLR-like body, and the camera's body style isn't the only similarity it shares with a DSLR: the zoom lens is operated by twisting the lens barrel to adjust focal length, much like you would with an interchangeable-lens camera. Although its image sensor isn't as big as the one you'd find in your average DSLR, the camera's 12-megapixel EXR CMOS sensor is physically larger than the ones found in most megazoom cameras. The 2/3-inch type sensor compares favorably in size to the 1/2.3-type sensors found in competitors such as the Nikon Coolpix P500 and Panasonic Lumix FZ150 .
In addition to the pure 26X optical reach, the X-S1 will also have an"Intelligent Digital Zoom" feature that doubles the reach of the zoom at the telephoto end to a simulated 1268mm. The camera also has a continuous shooting mode that reaches up to 7 frames per second at full resolution, or 10 frames per second at a 6-megapixel resolution.
Fujifilm says the X-S1 will have many of the features found in the Fujifilm X10 premium compact released in 2011, including the same 12-megapixel CMOS sensor with EXR shooting modes to let the shooter toggle between optimizing the sensor for high dynamic range (HDR),low-light, or high-resolution photos.
Other notable in-camera features include a high-speed/slow-motion video mode that reaches up to 320fps at reduced resolution, a motion-controlled panorama mode that captures full 360-degree images,and a "Super Macro Mode" that allows shooters to take photos of subjects that are practically touching the lens. The X-S1 will also offer traditional manual controls for aperture and shutter, the ability to capture RAW format images, and 1080p video recording at 30fps. The camera has an adjustable, tilting 3-inch LCD screen, as well as an eye-level electronic viewfinder that turns on and off automatically due to a built-in proximity sensor.
Battery life also looks impressive, as Fujifilm claims the X-S1 will shoot 500 photos per charge.
The X-S1 certainly isn't wanting for features–it's about as full-boat as it gets when it comes to optical oomphand in-camera controls. But there's a price to be paid for this megazoom monster: A beefy $800. The Fujifilm X-S1 is slated to ship at the end of January.