FxFarms parades itself as a legitimate Forex trading platform with great financial benefits for investors. However, dozens of complaints by users of FxFarms lodged complaints which have prompted a thorough investigation into the Forex trading platform.
Therefore in this article, you'll find out genuine information about FxFarms and hopefully, you'll be able to deduce whether it's a legit or bogus Forex trading platform.
How FxFarms Works
FxFarms works as a bogus Forex trading platform offering investors the chance to choose from any of five plans. The profit realizable (as claimed by the platform) depends on the chosen plan and ranges between 1.5% and 2.45% of the investment fee. Investing in the lowest plan comes at a fee of $25 while investing in the highest plan costs $55,000. Notably, the investment plans on FxFarms range from President (which is described as the highest plan) down to Eagle, Lead, Trader and lastly Base.
Is FxFarms Legit?
There's no need stressing whether FxFarms is legit or not since we have a handful of facts to substantiate that FxFarms is far from being a legit Forex trading scheme.
So, below are the Proven Reasons Why FxFarms Is a Scam.
---
Uncertainty of Security for Deposited Funds -Fx Farms has no security software (such as a DDoS protection) for any funds deposited with the platform. In reality, this does not only imply that members/investors on Fx Farms are vulnerable to third-party invasion but also clarifies that any funds deposited on Fx Farms aren't safe.
Uncertainty of Fund Withdrawal- The scammers behind FxFarms readily have Skrill, e-wallets and similar depository channels just to lure investors into depositing funds with them. However, there is no chance of getting paid trading bonuses earned through any of FxFarms' five investment plans.
---
Frankly, there hasn't been any real proof of fund withdrawal from FxFarms by any of the people using it. While this is a clear indication that FxFarms is a deceptive platform targeting novices and probably unsuspicious investors, it would be very risky to deposit any amount of money with the platform.
---
FxFarms Is Unregulated -If FxFarms were truly a licensed and duly registered company, it would be regulated by the UK's Financial Conduct Authority since its website information claims the Forex trading company is located in the United Kingdom.
---
For the fact that the Financial Conduct Authority isn't licensing any product or service under the title "FxFarms", it's beyond doubt that FxFarms (which claims to be a UK-located Forex trading company) is a blatant scam.
---
Unknown Company Location- One of the reasons to establish that FxFarms is a deceptive Forex trading company is that the company doesn't have a true specific location. Although there's a statement on the company's website implying that FxFarms is located in the United Kingdom, scrutiny into this has revealed that the company is using a fake UK address.
---
Instances of Deceptive Customer Feedback
A lot of FxFarms customers have lodged complaints regarding FxFarms' gimmicks. As a response to these complaints, FxFarms has hired people to act as real members and counter the negative claims made by real members. So, it's possible for prospective investors to come across written claims and even promotional videos by some members implying how they have succeeded with the Forex platform.
---
In reality, these are claims by people hired in order to trick investors into believing that FxFarms is a legit Forex trading platform. If you're reading some positive customer feedback about FxFarms, be well informed that such feedback is unreal and primarily intended to fool unsuspicious investors.
---
Career Progression
The fourth way to earn is when you progress in your career from Leader to VIP.
Find details about this in the table below.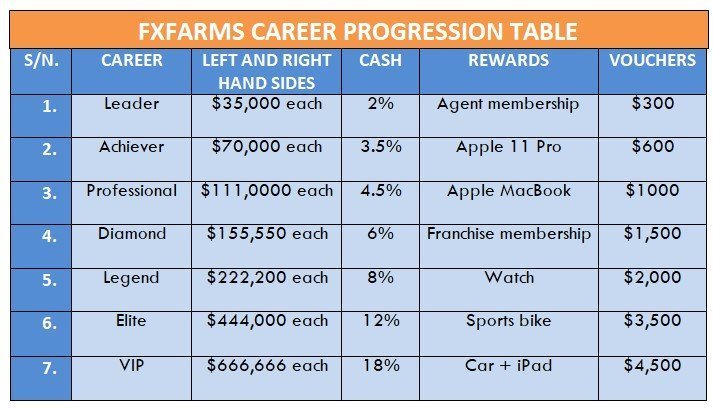 Now that we have seen how to earn, let's check out the supported countries and modes of fund transfer.
---
Supported Countries and Modes of Payment on FXFarms
Countries-FXFarms supports all countries; none is restricted.
Modes of Payment
---
You can deposit and withdraw with:
Bitcoin
Payeer
Ethereum
Tether
Next, you will find details about the fees, limits, and the verification requirements.
Let's check it out.
---
Fees, Limits, and Verification Requirements on FXFarms
♦Fees
Withdrawal fees – 9% (Admin charges)
♦Limits
Deposit – $25
Withdrawal – $5
Verification Requirements
Government issued photo ID
Proof of residential or business address
Corporate documentation
Business registration information
Any other applicable documents
We will see the ways to contact the team at FXFarms next.
Just keep reading.
---
FXFarms Customer Support
You can reach FXFarms via the following channels:
Email – support@fxfarms.com
WhatsApp

447480619460 – Sales Support
447481347262 – Technical Support
447446896591 – CEO
447480533921 – Finance

Physical Addresses

UK – 10th Floor 3 Hardman St. Manchester M3 3HF (+447480619460)
USA – PNC Building 300 Delaware Ave. Wilmington, DE 19801 (+12512207738)
Spain – Camino Fuente de la Mora 9 Madrid Hortaleza 28004 (+34518880207)
Greece – Spaces Green Plaza Ag. Konstantinou 59 – 61 Marousi Athens 115 24 (+302111988505)

Hong Kong

– 13A South Tower, World Finance Centre, Harbour City, 17 Canton Road, Tsin Sha Tsui, Kowloon
Conclusion
We hope that this review article has convinced you enough that Fx Farms is one of the bogus Forex trading platforms you should desist from.