Are you desperate to gain admission without JAMB in 2021? If you are reading this article, then you probably didn't sit for UTME 2021 or your score was not so high.
Either ways, I am going to show you at least 10 ways to gain admission without JAMB in 2021.
If you scored low in JAMB, there are schools that accept JAMB score of 120, 130, 140, 150, 160, 170 or 180.
But, if you are not interested in that choice, continue reading as I will guide you on how to gain admission without JAMB result in 2021.
You know what? There is no time for long stories.
So, let's begin right away.
How To Gain Admission Without JAMB In 2021
1. National Open University of Nigeria (NOUN)
Do you know that you do not need JAMB result to gain admission into the National Open University of Nigeria (NOUN)?
If you didn't know, now you know.
The good thing is that there are so many faculties and departments available in the National Open University of Nigeria(NOUN). In fact, there are also Postgraduate programmes.
Some of the faculties available include:
Faculty of Arts
Faculty of Agricultural sciences
Faculty of Education
Faculty of Health sciences
Faculty of Law
Faculty of Management sciences
Faculty of Sciences
Faculty of Social Sciences
Centre of Entrepreneurship and general studies
You can always check out the available departments in each department via the link: https://www.nou.edu.ng/programmes (select the faculty from the drop down menu at the top of the page).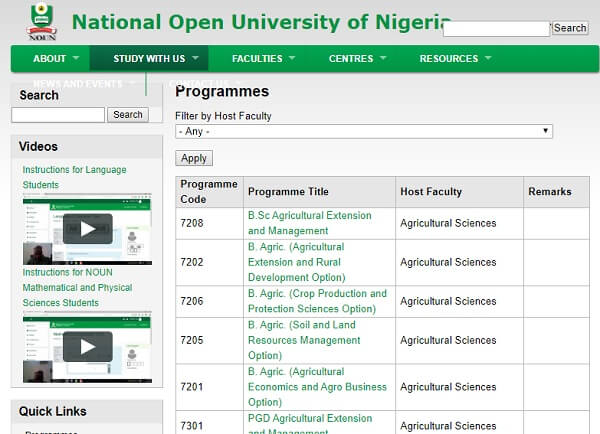 You can also check the available study centre in your state here via https://www.nou.edu.ng/study-centres-view
There are currently over 40 centres across all states in Nigeria where you can gain admission and study without JAMB.
Now, you are probably wondering, "So, what is the admission requirement for National Open University of Nigeria (NOUN)?"
For undergraduate level, the admission requirements include:
A minimum of 5 O'level Credits including Mathematics and English Language.
Additional requirements might apply for some programmes and these can be viewed after selecting the Programme and entry level at the Faculty's admission page.
To apply for a programme, select the Faculty, choose the Programme and entry level so that the View Requirement button is enabled. Clicking this button will reveal the corresponding entry requirement.
So, make sure you check that you meet the requirement(s) for your programme before you apply.
How to apply for NOUN Programme in 2021
Go to https://www.nouonline.net.
Click on Admission from the top menu.
Click on Apply for Undergraduate programme.
Select the Faculty, click on the programme you wish to apply for.
On the next page, select the entry level and click Submit.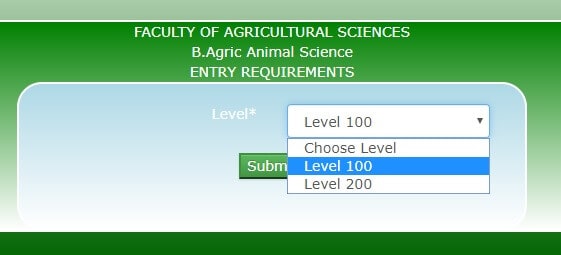 The minimum O'level requirement will be displayed to you just like the one below:
If you meet the minimum O'level requirement, click on the Apply button.
On the next page, start filling the personal details as you can see below.
After that, you will be redirected to Remita to obtain an RRR invoice which should be used to effect payment for the application form.
NOTE THE FOLLOWING:
If you pay online using a payment card, you will automatically obtain the online form which must be filled before submission.
If you pay through a bank branch, you must click on Continue after payment… and enter your Unique ID and RRR. You will also given be the opportunity to change the Programme applied for.
Successful payment will lead to the generation of an online application form which should be filled before submission online. The admission process is automated and the outcome is virtually instantaneous.
For more information, visit www.nou.edu.ng or go to any study centre near you to make inquiries.
Let's move on.
2. IJMB A'Level Programme
IJMB which stands for Interim Joint Matriculation Board is an A'level program moderated by Ahmadu Bello University.
Does it mean that only Ahmadu Bello University accepts IJMB result for admission? No. A lot of universities accept IJMB result for admission into any course.
Have you ever heard of A'level programmes?
Here's how they work:
You apply for the programme and it usually runs for 1 year or few months less than a year.
IJMB runs for 9 months.
During the programme, you will be lectured on A'level courses (similar to 100L).
You will write an examination based on everything you have been taught in the programme.
Usually, there will be two (2) examinations – One for each semester (both semesters make up one academic session just like in Universities, Polytecnics and Colleges of Education).
Using the result you get from the programme, you will be able to apply for 200L direct entry admission into any institution that accepts the certificate (over 97% of Federal universities and other universities accept A'level results).
The best parts about A'level programmes include:
You will be taught everything you will be asked in the examination unlike JAMB where you may have to read on your own.
IJMB result does not expire and you can keep using the same result to apply over and over unlike JAMB that expires in a year.
Also, admission is directly into 200L by 2021 and it is equivalent to gaining admission this year.
A lot of schools recognize the certificate and accept it.
There is higher chance of gaining admission compared to JAMB UTME.
In one of my previous guides, I listed at least 6 reasons why IJMB is better than JAMB, read it here.
You will also find the list of schools that accept IJMB for admission.
CLICK HERE TO REGISTER FOR IJMB
3. JUPEB A'Level Programme
The Joint Universities Preliminary Examinations Board (JUPEB ) is another popular A'level examination that you can apply for to gain admission directly into 200L without JAMB.
Unlike IJMB that is moderated by Ahmadu Bello University (ABU), JUPEB is moderated by University of Lagos (UNILAG).
The same way, you can use your certificate to gain admission into many Federal Universities in Nigeria except University of Ibadan (UI).
The Examination is written in June every year, and results are released in August.
You can even apply for JAMB Direct entry with your result the same year you sit for the examination or you can wait for the following year.
To apply for the JUPEB programme, you must possess a minimum of 5 Credits in relevant o'level subjects from WAEC, NECO or NABTEB in not more than two sittings. Awaiting result can also apply for the JUPEB programme.
The Governing body of JUPEB examination include:
The Chairman – Vice-Chancellor, University of Lagos.
Vice-Chancellor of all partner universities
Two Vice-Chancellors of Affiliate universities (on rotation)
Representatives of

The Honourable Minister of Education
National Universities Commission

Registrar/Chief Executive, JUPEB
If you want to get answers to every questions that might come to your mind regarding JUPEB programme, check the official JUPEB portal, https://www.jupeb.edu.ng/faq.
To register for the programme, you are to visit any of the affiliated University.
Below are the schools that accept JUPEB for admission that you can register at:
NORTH CENTRAL
Al-Hikmah University, Malete, Kwara State.
Crown Hill University, Kwara State.
Kwara State University, Ilorin, Kwara State.
Salem University, Lokoja.
Summit University, Offa, Kwara State.
University of Abuja, Abuja
University of Ilorin, Ilorin, Kwara State.
University of Mkar, Mkar, Benue State.
NORTH EAST
Kwararafa University, Wukari, Taraba State.
NORTH WEST
There are no affiliates from this zone for now.
SOUTH EAST
Abia State University, Abia State.
Alex Ekwueme University, Ndufu-Alike, Ikwo, Ebonyi State.
Caritas Universtiy, Enugu State.
Chukwuemeka Odumegwu Ojukwu University, Uli, Anambra State.
Clifford University Owerrinta, Aba, Abia State.
Ebonyi State University, Ebonyi State.
Enugu State University of Science and Technology, Enugu State.
Evangel University, Akaeze, Ebonyi State.
Federal University of Technology, Owerri, Imo State.
Godfrey Okoye University, Enugu State.
Gregory University, Uturu, Abia State.
Hezekiah University, Umudi, Imo State.
Imo State University, Owerri, Imo State.
Nnamdi Azikiwe University, Awka, Anambra State.
Paul University, Awka, Anambra State.
Renaissance University, Ugbawka, Enugu State.
University of Nigeria, Nsukka, Enugu State.
SOUTH SOUTH
Benson Idahosa University, Edo State.
Cross River University of Technology, Idim Ita, Calabar.
Delta State University, Abraka, Delta State.
Edwin Clark University, Delta State.
Federal University of Petroleum, Effurun, Delta State.
Igbinedion University, Okada, Edo State.
Ignatius Ajuru University of Education, Port-Harcourt, Rivers State.
Madonna University, Elele, Rivers State.
Niger Delta University, Wilberforce Island, Bayelsa State.
Novena University, Ogume, Delta State.
Obong University, Akwa-Ibom State.
Samuel Adegboyega University, Ogwa, Edo State.
University of Africa, Bayelsa State.
University of Benin, Benin.
University of Calabar, Calabar, Cross Rivers State.
University of Port Harcourt, Port Harcourt, Rivers State.
University of Uyo, Akwa-Ibom State.
Wellspring University, Irhirhi, Edo State.
Western Delta University, Oghara, Delta State.
SOUTH WEST
Achievers University, Owo, Ondo State.
Adekunle Ajasin University, Ondo State.
Adeleke University, Ede, Osun State.
Afe Babalola University, Ado-Ekiti, Ekiti State.
Ajayi Crowther University, Oyo, Oyo State.
Anchor University, Ayobo, Lagos State.
Atiba University, Oyo, Oyo State.
Augustine University, Ilara-Epe, Lagos State.
Babcock University, Ilishan, Ogun State.
Bells University of Technology, Ota, Ogun State.
Bowen University, Iwo, Osun State.
Caleb University Imota, Lagos.
Chrisland University, Ogun State.
Christopher University, Mowe, Ogun State.
Crawford University, Igbesa, Ogun State.
Crescent University, Abeokuta.
Dominican University, Ibadan, Oyo State.
Elizade University, Ilara-Mokin, Ondo State
Federal University of Agriculture, Abeokuta, Ogun State.
Federal University of Technology, Akure.
Federal University, Oye-Ekiti, Ekiti State.
Fountain University, Osogbo, Osun State.
Hallmark University, Ijebu-Itele, Ogun State.
Joseph Ayo Babalola University, Ikeji-Arakeji, Osun State.
Kings University, Ode-Omu, Osun State.
Kola Daisi University, Ibadan, Oyo State.
Ladoke Akintola University of Technology, Ogbomoso, Oyo State.
Lagos State University, Ojo, Lagos State.
Lead City University, Ibadan, Oyo State.
Mountain Top University, Ibafo, Ogun State.
Obafemi Awolowo University, Ile-Ife, Osun State.
Olabisi Onabanjo University, Ago-Iwoye, Ogun State.
Ondo State University of Science and Technology, Okitipupa, Ondo State.
Osun State University, Osogbo, Osun State.
Precious Cornerstone University, Ibadan, Oyo State.
Redeemers University, Ede, Osun State.
Tai Solarin University of Education, Ijebu Ode, Ogun State.
University of Lagos, Akoka, Lagos State.
Wesley University, Ondo, Ondo State.
NOTE: Any of the affiliated universities above where you register will be your study centre. However, you can use your result at the end of the programme to apply to any other school of your choice provided that:
The school accepts JUPEB.
You meet the minimum cut off mark for the school for your course of study.
For more information, visit the official JUPEB portal – https://www.jupeb.edu.ng.
4. Cambridge A'Level Programme
Just for the fact, this is the only A'level programme certificate/result that is currently accepted by the University of Ibadan.
So, if you have plans to gain admission directly into 200L in UI, Cambridge A'level is what you should be consider.
The Cambridge International General Certificate of Education: Advanced Level (formally also known as the University of Cambridge International General Certificate of Education: Advanced Level ; informally also known as International (GCE) A-Level(s), Cambridge (GCE) A-Level(s) or Cambridge International AS and A Level) is an international school-leaving qualification for admission into universities worldwide including the University of Cambridge, the University of Oxford, Harvard, Stanford and all Ivy League institutions.
Source: Wikipedia.
In order words, you can use the Cambridge A'level certificate to study both in Nigeria and abroad.
To register for Cambridge A'level examination, you must either:
Attend a Cambridge school
Register as a Private candidate in one of the schools that accept external candidate
To check the Cambridge schools around you and those that accept Private (external) candidate, click here.
5. Private Universities
There are some private universities in Nigeria that admit candidates without JAMB result.
In order to find these schools, here's what you should do:
Visit the official website of the school (should like like www.unilag.edu.ng – it should end in .edu.ng)
Find the contact page of the school from their website
You should see the email address of the registrar, admission officer or any mail to inquire about admission. You may as well see the Phone number.
Send them a mail or call to ask if they accept candidates without JAMB result for admission, and how to go about the application process.
You can as well visit the school admission office yourself or someone reliable should ask on your behalf. I just feel that the online contact will be easier (although my be slower and you may not even get a reply).
PS: For those who have low JAMB score, they can as well admit you with the score.
Most likely, you will find a lot of Private universities in this category
6. Part-time, Evening or Weekend Programmes
You must have heard of Part time (evening) or weekend programmes.
For most schools, you do not need JAMB UTME result to apply for their Part time programme (especially the weekend programme).
You just need to meet the minimum O'level requirements for the course and you are good to go.
Mostly, Polytechnics and Colleges of Education offer these programmes.
Just find out if your school of choice offers Part-time/Weekend programme admission without JAMB.
You can use any of the contact methods I stated above too.
Hope that helps, let's move on.
7. Pre-Degree Programme
Pre-degree programme is a bit similar to A'level programmes.
The main difference is that you will be taught mainly O'level course contents instead of A'level.
Also, you can only use your pre-degree programme in the school where you register and attend the programme.
Not all schools offer PD programme (UI does not offer Pre-degree programme, OAU and many other school does).
You will definitely gain admission once you can do well in the final pre-degree examination.
8. Diploma Programmes
The diploma programme is usually a two-years programme, that runs like the norman Undergraduate programme.
Upon completion of the programme, candidates who have a required minimum Cummulative Grade Point Average (CGPA) will gain admission into the regular programme as Direct entry (i.e into 200L).
It is usually a weekend programme and lectures will hold on Fridays and Saturdays.
Anyway, head over to the official website of the school you intend to apply for and check out if they offer Diploma programme.
Read the courses available, requirements and how to apply.
9. Study Abroad
Studying abroad is another alternative you might want to consider if you intend to study without JAMB in 2021.
Popular locations like Canada, Russia, USA, UK frequently accept international applicants and you should check their requirements out:
Usually, you will need to have passed exams like:
Cambridge A'level
GMAT
SAT
TOEFL
If you do not know anything about studying abroad, contact me. I know a trusted friend that does it.
So, that's it for now.
I believe all the methods I have mentioned in the post can help you gain admission without JAMB result or will low JAMB score in 2021.
Don't be selfish. I have shared the information with you for free, don't forget to share with others using the buttons below.
If you have any question, feel free to use the comment section below.