JAMB result 2022/2023 out on JAMB portal – How to check JAMB result 2022 with only registration number: Did you sit for the Joint Admissions and Matriculation Board (JAMB) Unified Tertiary matriculation Examination (UTME) in 2021?
UPDATE: If you have been finding it difficult to check your UTME result 2022/2023, JAMB has opened the portal for you to check it easily online on a new portal with a new URL.
Are you looking for how to check your JAMB 2022 result online on JAMB portal for Thursday, Friday, Monday and Tuesday batches? When will JAMB results 2022/2023 be released? Then, you will find that in this article.
This article will guide you on how to check your 2021 JAMB result on JAMB portal online with you registration number.
How To Check JAMB Result 2022/2023 With Registration Number
Go to JAMB result checking portal by clicking https://www.jamb.gov.ng/Efacility
Click on "UTME 2022 Result Notification Slip"
Enter your JAMB Registration Number/Email Address in the column provided
Click on 'Check My Results'.
The portal will load your result if it's ready.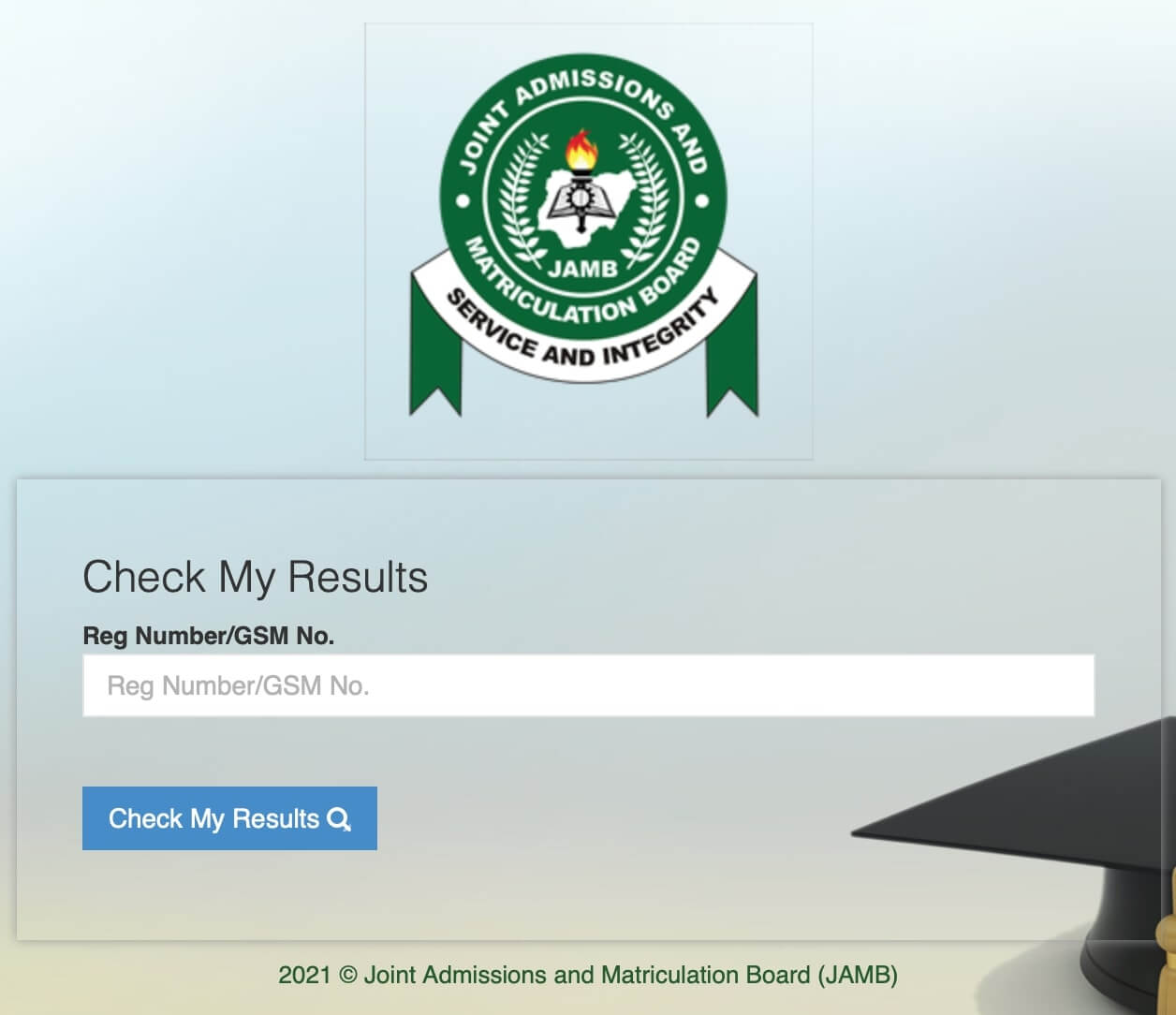 I believe that's easy enough. You can then proceed to Print it.
Latest News On JAMB Result Checker 2022/2023
You can now check your JAMB result 2022/2023 on JAMB portal by clicking the link above.
Next, click on UTME 2021 Examination Slip.
Then, enter your JAMB registration number in the box and you will see your JAMB result.
Before now, the only way to check your JAMB result was to send RESULT to 55019 while the portal was disabled.
Things have now changed, as the portal has been re-enabled.
Another way to check your JAMB result is to send an SMS Result to 55019. You will be debited #50 and your result will be sent to you.
JAMB has announced that if any centre is caught with any activities relating to examination malpractices, the results of all candidates in the centre will be cancelled from the starting date till the final day.
"If we establish any case of infraction or examination malpractice in any centre too, such centre will be shut down and the entire results of candidates who wrote in that centre from the commencement of the examination, which was April 11 to the end will automatically be cancelled," he tells NAN.
JAMB has also told candidates and parents to neglect rumours stating that the board id deducting 100 marks from candidates' results.
The board described the act as fraudulent and meant to extort parents and candidates.
"A gang being coordinated from a town called Igarra in Edo State with affiliates in Lagos, Ogun, Osun, Abia, Anambra and Plateau states are circulating fake notice of impending reduction of UTME scores.
"This is with intent to extort and defraud parents and candidates.
"Candidates results would be received on their registered cell phones as soon as the ongoing scrutiny of the examination centres are completed and publicly announced.
"Only the fraudulent candidates or parents stand being defrauded on this matter," the board said.
NOTE: Checking your UTME result score with your registration number or email address is totally free on JAMB portal.
You do not need anything like scratch card or PIN to print it out. In fact, you don't need the password to your profile before you can check your result.
After checking your JAMB score online, you will also need to print your original JAMB result on JAMB portal. This one will cost you money. See it below:
It is the original JAMB result that you will use to do the screening in your school after you have been admitted. See how to print it below.
How To Print Original JAMB 2022/2023 Result
1. Go to www.jamb.org.ng and click on Print Result slip
2. Subsequently, you shall use your email address and password to sign in.
3. Once logged in, you will be taken to the landing page where you will see all available services.
4. Select "Print Result Slip". This is available on the left side bar or on the JAMB profile dashboard.
5. Once you select this service, a Transaction ID is generated for this service. This will be displayed on the confirmation page screen.
6. Review the details displayed on the Confirmation Page. Also, note the Transaction ID displayed in a bold red font. The Transaction ID is useful for all future references concerning the Transaction. A copy of this transaction ID will be sent to your registered email address.
7. Click on the Continue button if you wish to pay with your card immediately. If you wish to use other payment channels like ATM, Cash at the Bank or Quickteller, please note the transaction ID as it will be required.
8. On the Interswitch Payment page, enter your card details and click on the Pay button.
9. The status of your payment will be displayed on the "My Payment Section". An SMS and email containing your unique Transaction Identification and payment status will be sent to you after payment. Click on the Continue button.
10. Once payment is completed, you will be asked to provide the following:
a. Year of Exam and
b. JAMB Registration Number.
After entering the information correctly, you can now print the Result Slip as shown on your screen.
has anyone sees his or her own result?
will jamb add 40 marks in 2021
will jamb still release 2022 result, when
when will thursday jamb result be out
when will friday result be released
That is all for on JAMB result 2022/2023 checking portal and how to print original JAMB result. If you have any question, use the comment section below.
If you have any question, use the comment section below. If you want me to check your JAMB 2022 score for you, drop you registration number or email address below.