JAMB Uploading Of Result. Here is a detailed guide on how to upload result on JAMB portal as well as the Starting Date and closing date for 2021/2022 JAMB Result.
Do you want to know how to upload your JAMB result on JAMB caps? Or you need a step by step guide to taking you through the process without making any mistake? Do you want to know when the 2021/2022 JAMB result upload will start and when it will also close? Perhaps you might also be interested in knowing the examination date.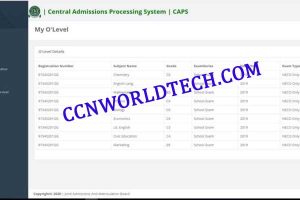 On this page, you will get all the information you need about how to upload result on JAMB portal without any stress. We will also at the later part of this article talk about 2021/2022 JAMB result upload starting date, 2021/2022 JAMB  result upload closing date. Without wanting too much of your precious time, Let's dive straight to the business of the day.
Quickly, It is no longer news that the Joint Admission Matriculation Board has already informed the general public to upload their O level results on JAMB Portal. The reason why JAMB made this announcement is not far fetched.
It is mainly to make the admission exercise on JAMB Caps to go easily without any form of delay.
When is JAMB Going to End the Uploading of Olevel/Alevel Result?
The official closing date for the uploading of result has not been announced by JAMB. But candidates are strongly advised to do it even before the date will be announced to put our mind at rest.
Also, all candidate are advised to re-upload their result to ensure certainty that your result has been recorded in the database even if you have done it before.
How can I Upload Result On JAMB Portal?
Uploading your Olevel result on JAMB portal is very simple. Just follow the steps below;
Visit the official website at www.jamb.org.ng. Ensure to have created your JAMB profile. If you are yet to have your profile created, the get it done before you move to the second step.
Log-in to your JAMB profile (https://portal.jamb.gov.ng/efacility_/)
Click on "Check Admission Status",
Click on "Access my CAPS"
Click on "My O'level result" to confirm if your O'level is uploaded. If not, visit any nearby accredited JAMB CBT Centre or

 JAMB office 

to upload your O'level result. Admission cannot be processed for candidates whose O'level status in CAPS indicates 'Awaiting Result'.
We hope this answers your question on how to Upload result on JAMB Portal. Thank you for reading.